November 10 Book Auction Highlights
Click links to see larger pictures.
The November 10 Rare Book Auction will be the highlight of the year! We have an array of offerings that are very hard to come by. Some of the highlights include: a 1748 Martyrs Mirror published at the Ephrata Cloister (#158), Two Nurnberg Bibles from 1765 and 1768 (#153 and #154 respectively), a 1685 Dutch Martyrs Mirror being one of the first editions with the Luyken prints (#156). We will also be featuring The History of the Martyrs by Claas Bruin published in 1747 (#277), Annals of the Conestoga Valley by Mast and Simpson (#387), The Earth is the Lord's by John L. Ruth (#378), Hochfürstlichen Brandenburgischen Onolzbachischen Fördersten Geistlichen by Johann Lorenz published in 1736 (#147), Martin Luther's "Geist- und Sinn-reiche auserlesene Tisch-Reden und andere erbauliche Gespräche" from 1745 (#148). In addition to this, we will also have Jacob Denner's Jacob Denners Christlich- und Erbauliche Betrachtungen über die Sonn- und Festtags-Evangelia des ganzen Jahrs published in 1751 (#163), and also Martin G. Brumbaugh's The Life and Works of Christopher Dock, a limited edition number 30 out of 1,000 (#100). Additionally, up for auction will be the first English edition of an 1837 Martyrs Mirror (#162).
We will also have some rare family Bibles and prayer books including: an 1834 Ausbund that belonged to Sara Yoder of Menno Township in Mifflin County (#82), an 1828 family Bible belonging to Christian (1800-1859) and Esther (Oberholtzer) (d. 1854) Hostetter (#152), a Mast family Bible from 1776 (#149), an 1814 Martyrs Mirror that belonged to Heinrich Kauffman in
Bern Township (#160), and a family Bible circa 1892 that has the family record of Abraham Shirk (1868-1955) and Emma Good (1868-1954) (#311).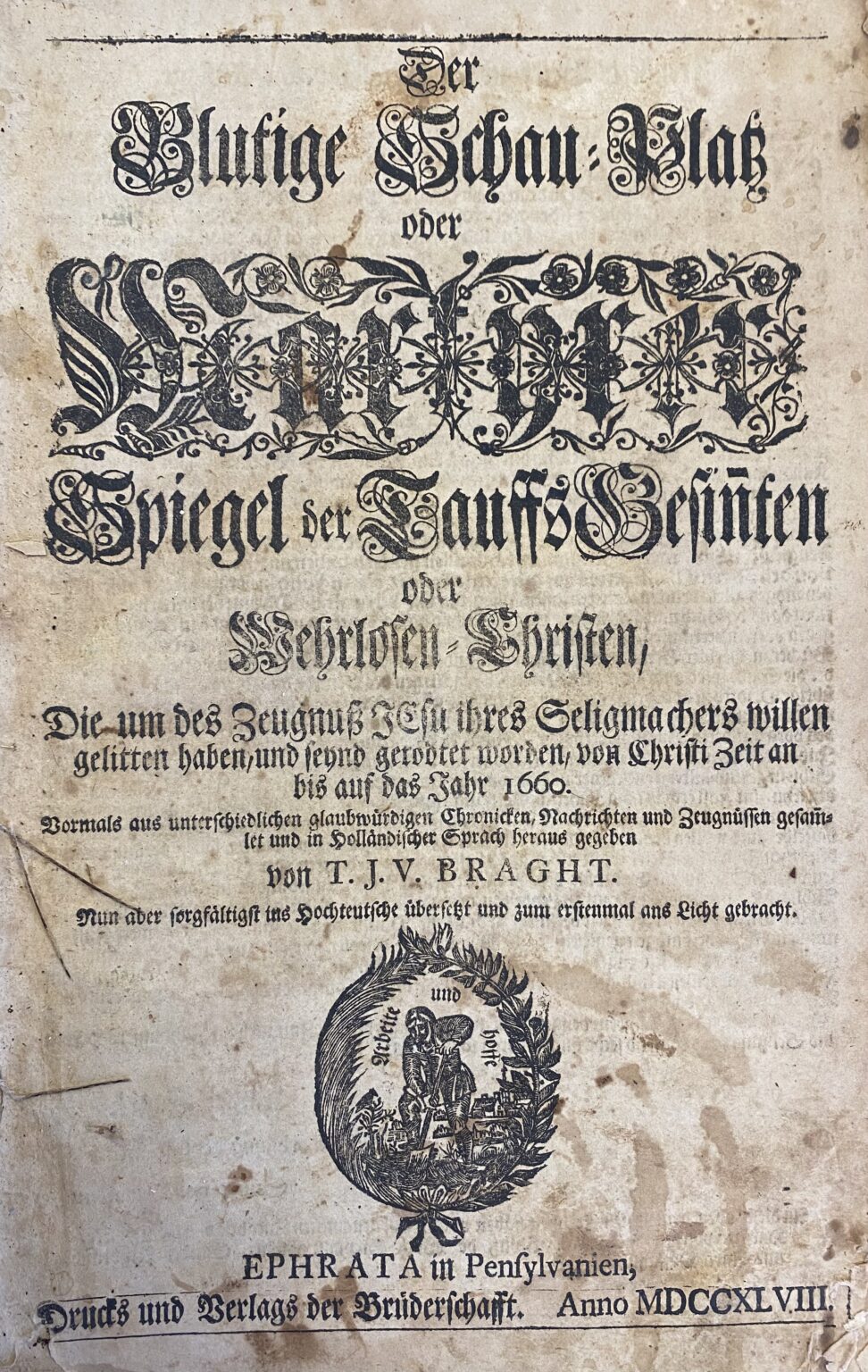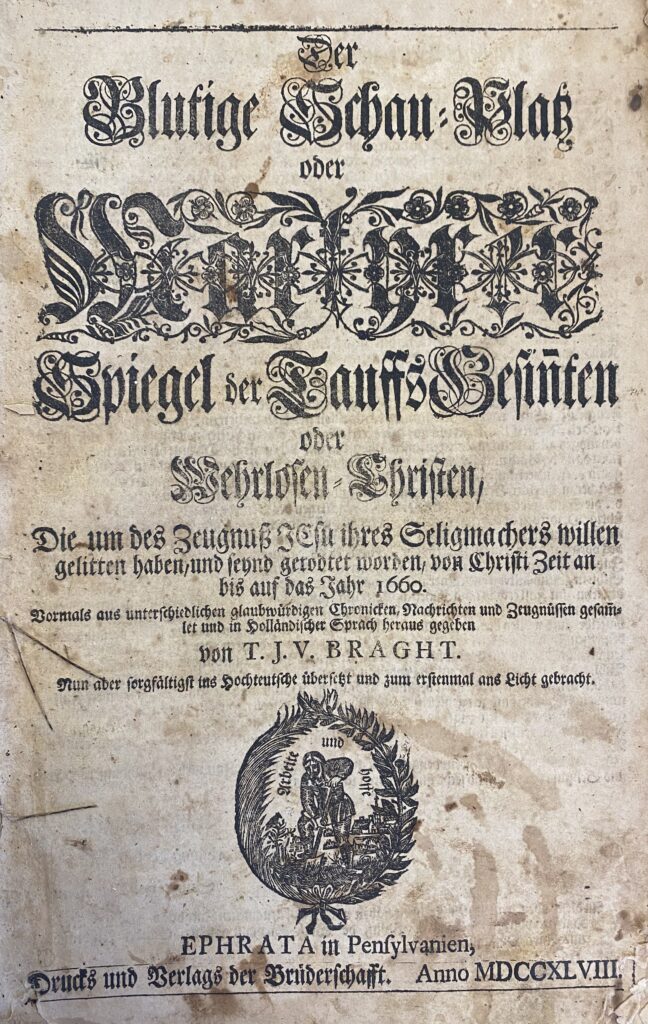 The next auction is March 8, 2024.
Please contact Used Book Manager for more information:
717.393.9745 ext. 106
Auction information
Guidelines
Books are displayed at Mennonite Life several weeks before each sale.
Catalogs are available for download here; printed catalogs are available for a subscription fee.
Online bids and credit cards are accepted.
Mail-in bids are accepted through 4:30 p.m. on the Thursday before the sale; use the online bid form below. Please bid in even dollar amounts. No absentee bids under $10 will be accepted.
For a complete list of procedures, please download the auction Policies and Procedures above. For additional information, call 717.393.9745 or email the address above.