Mennonite Sources and Documents
The Mennonite Sources and Documents series makes available significant primary sources pertaining to Mennonite and Amish groups in southeastern Pennsylvania. Occasionally sources from the Anabaptist period in Europe are also included. This series maintains scholarly standards of accurate description from the manuscript originals as well as faithful translation when required.
Intended for the church and the public, the series offers texts and images to nourish future generations. They invite the reader to enter authentically into the past to sample wellsprings of human motivation. Hopefully, more insightful understanding of Pennsylvania Mennonites and Amish will emerge from these efforts, and hopefully that understanding will help renew the faith to which these documents bear witness.
Hannes Eby Death and Burial Record: Life and Death in Old Warwick Township, Lancaster County, Pennsylvania, 1806-1845.
Translated by Carolyn C. Wenger, annotated by Denise Witwer Lahr, 2012. 272 pp. Hardcover. ISBN: 978-1-884732-08-9.
Translation of nearly nine hundred entries in a German ledger kept by John ("Hannes") Eby (1767-1845), who lived along Hammer Creek northeast of Lititz, Pennsylvania. From 1806 until his own death, Eby recorded burials of relatives, friends and acquaintances in "old" Warwick Township, Lancaster County, in neighboring counties and even into Canada. The book combines more than two hundred black-and-white and color photographs with twenty-seven sidebars and a detailed index to deliver fresh insight on the legal, political, economic, religious, medical, and industrial complexities of the early nineteenth century.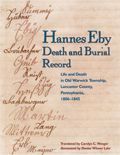 Golden Apples in Silver Bowls: The Rediscovery of Redeeming Love.
Translated by Elizabeth Bender and Leonard Gross. Edited by Leonard Gross. 1999. 336 pp. Hardcover. ISBN 1-884732-05-4.
First English translation of a foundational book of 17th-century Swiss Anabaptist spirituality, first published in German (Basel, Switzerland, 1702), then reprinted at Pennsylvania's Ephrata Cloister (1745). Wide-ranging compilation of texts which draws from martyr testimonies of the 1500s, confession of faith, prayers, singing instructions, and devotional admonitions. Treasured devotional literature of Swiss and South-German Anabaptists that served as a classic for early German-speaking Mennonites and Amish in North America. Includes an extensive interpretive preface.
While this book is no longer in print, Mennonite Life occasionally sells copies at our Rare & Used Book Auctions each year. Click the link below to learn more about the Rare & Used Book Auction and to see the catalogs for upcoming auctions.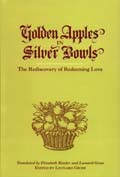 Menno Simons: "Confession of My Enlightenment, Conversion, and Calling" and The New Birth and Who They Are Who Have the Promise.
By Menno Simons. Translated and edited by Irvin B. Horst, 1996. 53 pp. Hardcover. ISBN: 1-884732-04-6.
Two works by Menno Simons (1496-1561), Anabaptist leader in the Netherlands. Revised translation of his autobiographical "Confession" (1554) tells the story of his profound transition from Roman Catholic priesthood to the leadership of a persecuted minority during Reformation. Now available in English for the first time, this personal account of a dedicated teacher-reformer shows how he encountered Christ through Scripture, became penitent, and subsequently changed his life course. The New Birth (ca. 1539), in a new translation from the original Dutch, describes his views on a crucial doctrine, about which he developed a unique theological understanding. Introduction and notes by Menno Simons scholar associated with the University of Amsterdam.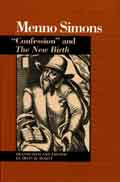 Amish Folk Artist Barbara Ebersol: Her Life, Fraktur, and Death Record Book.
By David Luthy, 1995. 128 pp. Hardcover. ISBN: 0-9614479-9-0.
Color and black-white illustrations of the folk art of Amish dwarf Barbara Ebersol (1846-1922) of Lancaster County, Pennsylvania, plus a biography and her necrology of Amish relatives, friends, and acquaintances from 1862 to 1915 (with author annotations). Over 75 color plates provide a veritable collectors' guide to her needlework and fraktur motifs, borders, and lettering styles, including those of Ebersol imitators. Portrayal of Amish life along Mill Creek, reflections on her art and on Amish sensibilities, translations of her letters to cousins, bibliographical sources, index. Unprecedented opportunity to view world of Old Order Amish through the eyes of one of their own scholars. Widely featured in folk art magazines and newspapers. Lovely gift item.

Ancestral Fan Chart [10 Generation]
This ancestral fan chart–printed in distinctive red and black ink on ivory, acid-free stock–records one's ancestors back to the tenth generation. Use of this practical tool allows the genealogical researcher to enter the results of research in numbered blocks that at a glance show descent from all ancestral lines. Numbered blocks are arranged in a semi-circular pattern by paternal and maternal lineage from 1 at the center to 1,023 in the right corner. One can begin the center chart block with one's self (one chart), one's parents (two charts), or one's child(ren). Numbers follow standard genealogical format. Printed on durable, uncoated stock, this chart comes flat or rolled for calligraphy and framing, but it folds easily and sells for use as a working copy as well. Blank charts make meaningful anniversary or holiday gifts for genealogy researchers, and family members welcome completed charts or showpieces lettered in flowing calligraphy. Chart form. Lancaster Mennonite Historical Society, 1993.
Requires additional shipping charge.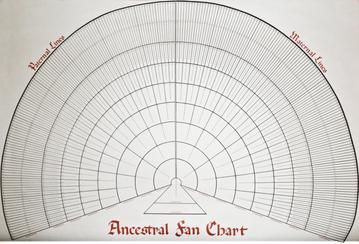 Mennonite Confession of Faith: Adopted April 21st, 1632, at Dordrecht, the Netherlands, and Widely Accepted in Germany, France, Colonial Pennsylvania, the United States, Canada, and Elsewhere.
Newly translated and edited by Irvin B. Horst, 1988. 80 pp. Hardcover or paperbound. ISBN: 0-9614479-6-6.
First translation of the 1632 Mennonite Confession of Faith from Dutch directly to English and first English translation of 1633 preface. This classic theological agreement of 1632 between various Mennonite groups in the Netherlands has been widely accepted among Mennonites and Amish in Europe, North America, and South America. Today, nearly four centuries later, most groups of Mennonites and Amish still use it as a reference point for their theological affirmations-for example, the nature of God and Jesus Christ, Last Judgement, and coming of Christ–and for their church practices-ministry, Lord's Supper, footwashing, marriage, civil government, oath-swearing, excommunication, and nonresistance. Includes 18 articles of faith, brief bibliography, facsimile of original text, list of all Dutch editions and of translations in German, French, English, and Spanish.

Tennessee John Stoltzfus: Amish Church-Related Documents and Family Letters.
Edited by Paton Yoder. Translated by Noah G. Good, et al., 1987. 296 pp. Hardcover. ISBN: 0-9614479-5-8.
Translated letters (1832-1887) by and to John Stoltzfus (1805-1887), Lancaster County, Pennsylvania, Amish leader who moved to Concord, Tennessee. Documents (125) usher the reader into the mid-19th-century world where a Great Schism occurred among the Amish as the line between compromise and rejection of religious conviction was passionately debated. Includes accounts of ministers' meetings, which attempted to unite Amish church leaders of North America but failed to achieve consensus on issues such as stream baptism, duties of full deacon, church-wide ministers' meetings, rebaptism of persons baptized as adults, ex-communication, and Sunday schools. Reveals communication network stretching from Pennsylvania, Ohio, Indiana, and Iowa to Tennessee, where rural settings depict Amish folkways and family life. Topics frequently include land and crops, sickness and health, migration, reminiscences, and weather as well as an 1866 Amish woman's diary of travel to the Midwest. Historical-geographical sketch of Amish settlements, maps, illustrations, index.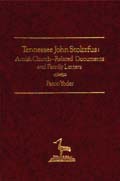 Occasional Publications:
The Lancaster Mennonite Historical Society either published or has the only remaining stock of the following items. These are nonseries titles that appeared on an occasional publication schedule.
The Early Years of Weaver Book Store.
By Virginia Kreider Weaver. Revised ed. 1994. 35 pp.
Locations, personnel, history, and human interest anecdotes of life in literature ministry at what later became Provident Book Store in Lancaster, Pennsylvania. Includes illustrations, poetry.
Out of print.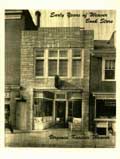 An Every-Name Index to a Genealogical History of the Cassel Family in America (1896), by Daniel Kolb Cassel.
by Albert Edwards, 1993. 55 pp.
Major surnames: Benner, Bergey, Boorse, Cassel, Delp, Detwiler, Freed, Gotwals, Hiestand, Kolb, Kratz, Kulp, Musselman, Pennypacker, Reiff, Stover. Allied: Alderfer, Bean, Buckwalter, Funk, Harley, Hunsicker, Kline, Moyer, Shutt.
Out of print.

Genealogical Record of Reverend Hans Herr and His Direct Lineal Descendants from His Birth A.D. 1639 to the Present Time Containing the Names, Etc. of 13223 Persons . . . with Corrections and Supplemental Data.
By Theodore W. Herr and Phillip E. Bedient. 3rd edition. 1994 (originally published in 1908). 800 pp. $30.00 (hardcover). ISBN: 1-884732-03-8.
New reprint of classic Mennonite genealogy with all-new, 1994 addenda of additions/corrections to early generations, nos. 1-38. Major surnames: Bachman, Barr, Bowman, Brackbill, Breneman, Carpenter, Eckman, Forney, Forrer, Frantz, Frick, Funk, Groff, Grove, Harnish, Hartman, Herr, Hershey, Hess, Hoover, Kauffman, Kendig, Landis, Lefever, Long, Martin, Metzler, Miller, Myers, Neff, Rohrer, Rudy, Shaub, Shenk, Snavely, Strite, Weaver, Wilson, Witmer. Index; illustrations.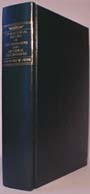 Glimpses Past: Annotations of Selected Social and Cultural History Materials in the Mennonite Herald of Truth, Gospel Witness, and early Gospel Herald.
By Steven L. Denlinger, 1985. 155 pp.
Thematically arranged article annotations in areas of arts, dress and external conformity, education, emulation of other groups, sense of heritage/history, migration, nationalism, nonconformity, pacifism, political involvement, race relations, social attitudes, temperance, urbanization and upward mobility, women's role and identity.
Out of print.

Hans Herr: The Lancaster Mennonite Patriarch.
By J. C. Wenger, 12 pp.
Monograph on early Herr family in Lancaster County, Pennsylvania. Tells story of Swiss and Palatinate backgrounds of early area settlers, colonial history, 1719 Herr House history and restoration vision; chronological bibliography. Full-color illustration of Herr House painting by Andrew Wyeth plus other black-white illustrations.
Out of print.